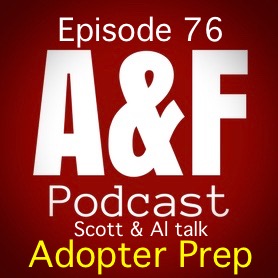 In this episode we were prompted to discuss the initial adoption preparation that is a statutory requirement in England and Wales. Its a course run over a few days normally undertaken prior to prospective adopters making an application or at the beginning of the process. We pulled together the results from a Twitter poll that we'd put up as well as some thoughts and reflections that the kind people of Twitter had posted (we've included them below). We draw on our experience of attending and delivering training as well as looking at the Regs. 
There's the usual infobanter from Scott and Al and we hope you find it interesting and would like to get in touch with comments or suggestions then please do direct message us at our twitter feed here or on our facebook page here.
Listen/subscribe on iTunes here
Spotify here
Google here
They encourage childcare experience but it's usually with family or a gentle group at a local school or nursery. If possible, needs to be more opportunities with care experienced children and more input from adult adoptees. Though I appreciate this might not be safe or practical.
I can't answer it - too much hindsight! There's literally nothing can really prepare you for being a parent of any child tbh. Plus I know what I wanted to hear and what I closed my ears to. I think there are practical things missing, particularly around NHS numbers, UPI numbers and stuff like that. Plus a crash course on navigating health/education/SEND services might help, but would we take it all in? For me the nitty gritty realism needs to come at matching, and be on all sides.
As a Adoption Training Officer and an adopter delivering Stage 1 & 2 training I'm shocked by lack of info adopters had in their training! We start by saying 'this is not a tick box exercise we are preparing you for life with a child who has experienced developmental trauma'
I asked lots of practical questions and was met with, you'll find that out later, or vague answers. No adoptee voices, no care experienced voices, only one very honest adopter. Letterbox didn't cover what to do when they don't reply and your child is devastated.
There was no real mention of identity, no suggestion of face to face contact, no discussion around the ethics of adoption as a concept. The message was "it's hard but definitely the right thing to do".
I think as a prospective adopter you don't know what you need, so you don't know if you're prepared or not. You go to the training because you have to, your goal is your child coming home. A lot of the training only makes sense once you're living adoption.
I think as a prospective adopter you don't know what you need, so you don't know if you're prepared or not. You go to the training because you have to, your goal is your child coming home. A lot of the training only makes sense once you're living adoption.
I would have found hearing from more adopted people and adopters really helpful. Training at our agency has moved on now & it's much better. We suggested adopters/adopted people help deliver training. Agency listened & now they include people 'living it', which is great!
Yes actually in many ways excellent, really good, lots of help as we adopted older child encoraged to speak with adoptees. Missing was practical stuff & getting help, SAR requests,  contact rejection, schools! Birth family input etc
Too long ago to remember - 20 years ago!  2nd and 3rd time round there was no training.  Suppose it was assumed we'd know something as we were doing it again! In reality all I've learned has been since they arrived
We would have valued some more prep between approval and introductions, particularly about how to manage intros and early weeks/months. Pre-approval it all felt very theoretical. Once approved  I think adopters need to be given some practical skills and knowledge of TP.
Adoptee adopter
I've said yes but mainly due to lived experience personally and with an adoptive sibling who had a different reaction to me. The training and info received from the agency was not enough to understand attachment, trauma, identity, processes for PAS.
I had 2 lots from 2 different LAs. Both were ok but lots missing - we had an older adoptee speak to us, at least an adoptee voice was involved but bore no resemblance to current circumstances due to her adoption taking place 55+ years ago, would have been helpful to have heard from younger adoptee, we had some stuff about direct contact - GPs & sibs but not much, letterbox stuff was pretty rubbish - attitude was most BPs wont respond anyway, but nothing on how to deal with that with a child, nothing on what to do if it does go well - ie do you  increase or progress to direct contact or...what? Some stuff over simplified/glossed over. Think adopters should be more involved in leading the training as can be more real, share lived experiences. Issues surrounding education not addressed at all. Lots of focus on adoption process - stage 1, stage 2, panels, cprs, matching, intros etc - would have preferred more on what it actually means to parent a traumatised child...I could go on!
Adoption.adventures
I think that we were prepared as much as you can prepare anyone for this journey, no training can cover it all, it's about jumping in and learning for yourself. Find out what you don't know when your child moves in. But there was always support for us post adoption
Fi 
I'm not sure anything can fully prepare you. But it was a start. What is really needed is good quality after training with childcare and at the right time
Katie something esq
We asked for more about genetic conditions and prenatal exposure and the guy they brought in for that talked about HIV.
Also there is NOTHING on typical infant and toddler development - just assumed everyone is adopting older kids.
Elaine Amy
What we went on was good in the sense that we had an understanding of the girls' needs and what life would be like. But it was in no way good enough to prepare us for a lifetime of navigating systems outside the family. So overall, no, it wasn't good enough.
Jenny Jones 
First one (15 yrs ago) was enjoyable, interesting but didn't even touch on attachment/trauma. 
Second one (8 yrs ago) was really really bad, I was accused of being negative for mentioning some issues my older two had! We had 2 hours on child development in this one.
Simon Armstead
We had a good all round, realistic and honest preparation of what may lie ahead.
Our prep was fantastic, we could not have asked for more. It's the post adoption support where it falls down (in my opinion). Post adoption support needs updating, a complete overhaul and some progressive 21st century thinking. Now where shall we begin #AnswersOnAPostcardPlease
Ali Redford
Nothing can ever prepare you enough!
Donal traynor
In hindsight, no. We enjoyed it & learned from the process but looking back, we were not at all prepared for the relentlessness & had no training on navigating education & health systems.
Laura Cummins
Absolutely not. I read so many books, listened to podcasts, watched documentaries - absolutely nothing prepares you for the reality of having an angry little stranger in your home. Our 2 year old son has been home for 8 weeks and has experienced so much grief from losing foster carer which has manifested itself in violence and extremely difficult behaviour beyond anything we read about or expected. We were never taught about this at prep group.
Clair Davis
'Twas fair but I don't think u can really "get" adoption until u r in it.  Discrepancy between being required to show how sensitive and empathic u r and the rhino skin required for adopter's life.
Pen
I'm no way. Attachment was a problem in very rare cases apparently. Nothing about therapeutic repArenting etc
Hand in Hand
I think there's a limit to what they can teach you. However I think we were adequately prepared for the fact that this was going to be a huge challenge. The times that we felt stumped, it wasn't about inadequate training, just a fact of life as a parent
David Hartley
Absolutely abysmal. We spent one half day if the five day course discussing the name of the child. The fucking name. As if that was critical. "I don't want an Algynon!" "I can't face getting a Kylie!"
Hushabyemountain
Wish we had known about therapeutic parenting and developmental trauma from the outset; not prepared for our needs being treated as unusual; unprepared for school and SEN; expected everyone we dealt with to have same knowledge as us from the adoption training ...!
Marnz
IMO too much time is spent on how much "stuff" we should tell people. At a recent meeting we discussed that the list is almost endless, we need to shift our focus to people, Their strengths/triggers etc "Education Is Not the Filling of a Pail, But the Lighting of a Fire" #mentor
Tamsin cottle 
I wish someone had said it's ok not to feel ok. You may struggle and you may not enjoy this and wonder what the hell you have done. That's ok talk to someone do not feel guilty or bad about yourself as a parent.s. adequate in that lots of info on attachment & trauma but we adopted two at once and were not prepared for how crazy and hard life would be with two at different development stages and with different survival strategies.
Adoption cake
Have been through the assessment process twice.  First time round we felt fully prepared on the day we met them, almost 8 yrs on some days I feel less prepared than ever. Life changes, you change, they change - it's an ever changing experience.  Now often speaking to...I'd like to see reflective group practice included in prep; voice of the adoptee/adopter - not a 1/2 talk with photo albums, true realities; compulsory workshop for close family/supporters; inclusion of #FASD on every course & info on navigating all the systems to gain support!!