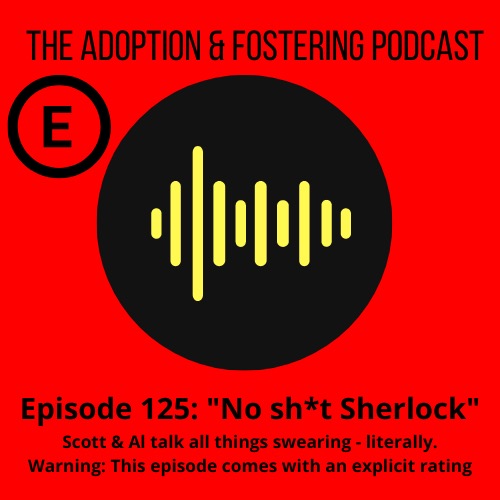 Be warned, there's swearing in the worst possible way in this episode, if it's not for you then steer clear. Seriously, we quote some pretty shocking stuff as well as some comical examples but you listen at your own peril. 
We start with a round up of some of the latest goings on, the new report form the The All-Party Parliamentary Group for Adoption and Permanence and the comings and goings of ministerial changes are all discussed. Then we get to the main event all prompted by the report from the National Institute for Health Research on adoption children and PTSD. Well, as Scott would say, 'No S**T Sherlock'. This led us into a very frank discussion in relation to swearing. We know that not all adopted or fostered children swear but we talk about some of our challenging family experiences as well as some of the views and anecdotes shared by twitter with us. 
This episode is not for everyone and we quote some examples that are beyond the pale so if it's not for you then don't listen. You've been warned.  
As always if you've experience of adoption, Fostering or special guardianship from any perspective and would like share that on the podcast please get in touch through the Facebook or twitter page or email us at AandFpodcast@gmail.com
Listen/subscribe on iTunes here
Spotify here
Google here